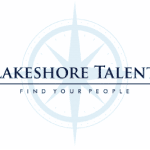 Lakeshore Talent
Lakeshore Talent has partnered with a small Non-Profit downtown. We are seeking an Administrative Coordinator for a possible temp to hire role.
The hours would be about 35 per week while you are a temp. Once perm, it would be 30 – 35 hours per week
You would have a hybrid work schedule and be in the office 1-2 days per week and work remotely the other days.
Responsibilities:
– Data entry
– Assist with running and storing background checks
– Coordinate zoom sessions
– Pull invoices and send to the Accountant; assist Accountant with other requests
– Manage employee files
– Provide basic tech support for employees
– Archive files
– Assist grants manager with special projects as needed
– Scan and copy documents
– Other admin duties as assigned
–
Requirements:
– Works well independently but knows when to ask questions to avoid mistakes
– At least 2 years of administrative experience
– Proficient in Microsoft Office
– Bachelor's Degree preferred
– Interest in Finance/Accounting or grants preferred
Pay is $21 per hour.
Apply with Google
Apply with Linkedin
Apply with Indeed