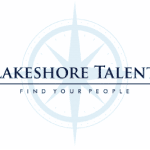 Lakeshore Talent
Lakeshore Talent is partnered with a large healthcare organization in their search for an Inventory Clerk to support the Central Supply team of a hospital in Chicago, IL.
Shifts: 5, 8 hour shifts (weekends required) 7:00am – 3:30pm, 3:00pm – 11:30pm, 11:00pm- 7:30am
Pay Rate: $17/hr,
Contract Length: 3 months to start
Because this position is in a healthcare setting, all immunizations must be up to date (MMR, Varicella, Tdap, seasonal flu, and Covid-19).

OVERVIEW: The Inventory Clerk will assist with supply chain activities related to product receipt, distribution, and replenishment. Manage all inventory in the assigned department(s) including but not limited to daily replenishment and order confirmation. Successfully troubleshoot issues regarding purchase orders, receipts, product loaners, credits, substitutes and stock outs. Routine assessments for expired, damaged and recalled supplies.
Required:
High School Diploma
Ability to move at a moderate to fast pace with lots of walking every day
Comfortable with moderate labor
Ability to life up to 40lbs
Attention to detail
Excellent communication skills
Apply with Google
Apply with Linkedin
Apply with Indeed