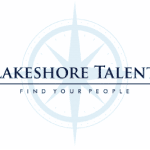 Lakeshore Talent
Lakeshore Talent is currently seeking a Contract Recruiter for one of their clients, a Denver-based organization in the healthcare industry. This is a remote, 2-3 month contract position and pays $34-35/hour (depending on experience).
Background check and drug test required upon hire.
Responsibilities:
Manage and implement all recruiting tasks

Oversee the hiring process.

Enlist job postings on forums which can source new candidates at the time of hiring such as newspapers, social media, advertisements, etc.

Source candidates for recruitment.

Analyze job's requirements and objectives before publishing the posting.

Regularly updating job descriptions and requirements.

Screen job applications and shortlist candidates.

Conduct interviews of the applicants to filter them further and advance them to the next level relevant to their job posting.

Collaborating with HR and the management of the recruitment process.

Present reports on recruitment and analyses the status of recruitment practices regularly to the team and management.

Network and build contacts to source candidates better in the future.

Work following company policy and standards.
Qualifications:
1-2 years prior experience hands on experience with recruiting and sourcing candidates.

Prior experience in the Human Resources helpful.

Excellent ability to conduct and administer various kinds of interviews and selection methods respectively.

Knowledge of skill assessment processes, applicant tracking systems, candidate management systems, and HR databases.

Excellent communication, people and interpersonal skills.

Thorough knowledge of all job descriptions being applied for along with the requirements and responsibilities that come with them.

Attention to detail.
Apply with Google
Apply with Linkedin
Apply with Indeed