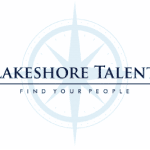 Lakeshore Talent
Lakeshore Talent is looking to fill an HR Generalist position for a company in the staffing industry. This is a direct hire role that pays $70-$75k.
An ideal candidate will have strong experience within benefits.

Position Overview
The Human Resources Generalist provides support to the HR Department by helping resolve HR questions and requests from clients and internal and external employees, by overseeing certain HR compliance-related services, and by completing complex HR administrative tasks. The HR Generalist is expected to provide prompt response and timely service to all internal and external customers.
Specific Responsibilities
Research and maintain up-to-date knowledge of various local, state, and federal laws in order to assist with making informed and compliant employment decisions
Assist in development, implementation, and communication of human resource policies
Oversee the state-by-state harassment training process, including keeping up to date with harassment training laws, running weekly payroll reports, following up with incomplete trainings
Advise staffing representatives on employee background screening results and determine eligibility for employment in accordance with Federal and State law
Work with HR team for the update and distribution of handbooks, policies, procedures and guides
Respond timely to HR mailbox/phone line inquiries and provide impeccable customer service to clients and internal stakeholders
Work closely with the Human Resources team and staffing representatives to respond to client and employee inquiries regarding day-to-day employment questions, including conducting investigations and recommending appropriate corrective action
Support Human Resources team with unemployment inquires as needed
Assist HR department with internal employee engagement activities
Complete monthly, quarterly, and ad hoc HR reports as needed
Assist the Human Resources Department with the completion of various tasks, to include employment verifications, requests for records, subpoenas, etc.
For new hires, work with Office Administrator to ensure welcome packages are sent out in a timely manner
Provide office, phone, and receptionist back-up as needed
Maintain a high level of confidentiality due to exposure and availability to sensitive information
Assist benefits team with projects as needed
Additional responsibilities as needed
Skills and Qualifications
Bachelor's Degree in Human Resources, Business or related field
5 years' experience in an HR role
Human Resources Certification (SHRM, HRCI) preferred
Above average knowledge and experience using MS Office Suite, including Outlook, Word, Excel and Power Point
Previous experience with employment compliance in 50 states
Superior communication (both oral and written)
Demonstrated administrative skills
Attention to detail with an emphasis on accuracy
Strong orientation to quality, continuous improvement and customer service
Above average organizational skills
Ability to multi-task, prioritize, adapt to changing environment
Apply with Google
Apply with Linkedin
Apply with Indeed