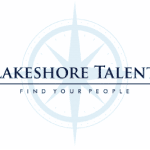 Lakeshore Talent
Lakeshore Talent is partnering with a nonprofit healthcare organization in their search for a Lead Nurse. This is a wonderful, mission-based organization that provides services to children with disabilities.
Job Summary: Responsible for leading and supervising a team of 6-7 practicing nurses (4 full time, 2 part time, and a floating nurse) to ensure that a high quality of nursing services is provided to the internal and external customers.. The lead nurse will be responsible for coordinating and overseeing activities of the nursing staff to ensure compassionate, effective, and efficient delivery of high-quality clinical care to clients. This leader will also be responsible for the daily management of the nursing staff and ensures that all work is accomplished through the utmost efficient and effective manner.
Hours: 40 hours/week with a flexible schedule
Location: This will be working primarily remotely but occasionally supervising nurses in the sites they are working at which includes Colorado Springs and surrounding areas (Woodland Park, Monument, Pueblo)
Pay range: $65-80K + 3k sign on bonus
Responsibilities
Provide comprehensive assessment of clients to determine eligibility, ensuring that the appropriate assessments are conducted in accordance with the professional and company standards.

Assess and deliver direct client care in order to maintain professional competence, authority and credibility.

Ensure that all nurses are implementing client care plans, while also involving the client and/or authorized representative in care plan development.

Monitor weekly performance of nursing staff to ensure duties are completed accurately, efficiently, and timely.

Assist nursing staff in training, scheduling, coaching and development needs.

Support the Admission/Discharge Coordinator with tasks that are assigned but not limited to management of new client admissions, addition of services to existing clients, and discharge processes.

Evaluate home health quality standards and guidance, disseminate amongst clinical staff, and take appropriate action to ensure compliance

Take a lead role in driving process and service quality improvement and innovation for the benefit of the client and the in partnership with clinical and non-clinical colleagues, service users, and other stakeholders.

Implement and execute protocols and policies to support delivery of high-quality client care.

Take a lead role in establishing clinical performance and quality standards and to ensure that systems are in place to regularly monitor and evaluate. Take appropriate remedial action when performance and quality standards are not as expected

Continuously monitor the quality of client care and the consumer experience and put in place strategies for continuous improvement.

Hold regular nursing staff meetings (no less than two monthly) to promote communication and information sharing.

Ensuring that all registered nurses know and understand the procedures and expectations for documenting health records.

support the Clinical team in identifying the educational and professional needs of the nursing staff using a training needs analysis that is evidenced to deliver the outcome of improved staff and client experience.

Conduct training needs analysis and facilitate the appropriate training sessions for all nursing staff on topics pertinent to home health care and maintain evidence of this.

Conduct annual performance appraisals for all nursing staff, identifying areas of excellence, and identify further training needs or opportunities for improvement.

Deal with staff issues which require disciplinary action in an appropriate manner, seeking assistance as needed.

Develop nursing rosters that meet consumer needs and maintain appropriate staff ratios in accordance with the requirements of the practice, taking into account the skill level of members of the nursing team

Conduct research for educational materials to use with client care and Clinician provision of care, under the direction of DCS/ADCS.

Train for ADCS duties and assumes duties as needed. May cross train in other office positions and assist when requested by DCS/ADCS.
Minimum Requirements
Strong analytical and problem-solving skills to evaluate the quality-of-care services and to resolve issues.

Colorado RN license in good standing with the Department of Regulatory Agencies. If assigned in an alternate state, transfer to Colorado required within 6 months of hire.

Two (2) years of Supervisory experience required.

A minimum of 2 years nursing experience preferably as a home health care nurse

Team development and people management

Strong interpersonal communication

Clinical competence in the area of practice nursing

A knowledge of and passion for primary healthcare

Plan, organize, and prioritize.

Meet goals and achieve deadlines.

Current (validated within the last 12 months) CPR and / or Advanced Life Support certification

Associate Degree in Nursing

Strong time management and organization skill

Strong computer skills. Ability to work with electronic medical records system

Ability to effectively communicate with staff, clients, and medical personnel

Ability to advocate for and relate to clients/families and their concerns.

Ability to remain current in the skills and knowledge necessary to provide quality client care.

Current knowledge of laws and regulations related to home care.

Apply with Google
Apply with Linkedin
Apply with Indeed