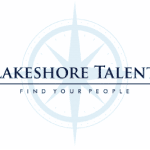 Lakeshore Talent
Lakeshore Talent is looking for a Payroll Specialist for a growing HR organization.
This is a direct hire role paying $50-$55k.

This is a remote role, but candidates must be open to working 8:30am-5pm Eastern Standard Time.
Position Overview
The Pay/Bill Specialist is responsible for entering reported time for payroll processing. They are responsible for ensuring that payroll is processed, timely and accurately. In addition they are responsible for responding, and resolving payroll inquiries, and issues.
Specific Responsibilities
Collect, review and input employee and sub-vendor time and expenses for assigned clients base across all pay cycles (weekly, bi-weekly, semi-monthly, monthly) and entities
Ensure that payroll is processed in a timely manner with a high level of accuracy
Ensure all PWP or Net terms payroll are entered and paid when due
Track and follow-up on any stop-payments and/or rejections alongside calculating any required pay adjustments
Ensure that employee and sub-vendor payroll and account records are up to date and where required, administer rate changes, garnishments and other updates related to employee and/or sub-vendor records
Review and respond to payroll related inquiries from employees, sub-vendors, and clients
Coordinate with HR and finance teams to carry-out payroll processing and to address changes in a timely manner
Make sure Flex payroll entries are correctly entered and exported for payroll processing
Collect VMS/MSP time entry and enter for pay & billing
Manage client and segment specific pay & bill entries, including, regularly updating necessary client payment trackers, entering received time into the appropriate payroll system, preparing and submitting invoice entries into client portal(s) and/or using client specific invoice templates
Act as the primary point of contact for specified clients, completing the necessary follow-up to ensure that payments are received in a timely fashion, and escalate any concerns or delinquent accounts to collections departments and/or management, as needed
Provide monthly accrual pay & bill amounts for unbilled or late time
Maintain strong customer service for all clients and employees/sub-vendors
Skills and Qualifications
Post secondary diploma or degree in finance, accounting and/or payroll
Minimum of two (2) years related experience is required
PCP or similar designation is considered an asset
Superior communication skills, both verbal and written
Ability to prioritize with exceptional time management skills to produce results in a fast-paced and dynamic environment
Proficient Microsoft Office skills (specifically Excel, Word, Outlook)
Professional manner and customer service focus
Able to thrive both independently and in a team environment
Apply with Google
Apply with Linkedin
Apply with Indeed