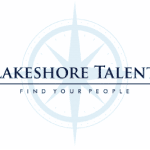 Lakeshore Talent
Lakeshore Talent is partnering with a privately owned storage facility in their search for a President of the Texas Region. This is a position that offers growth opportunities with a dynamic leadership team. 
Reporting to the COO; The President is accountable for leading all storage operations to maximize long-term profitability and growth over 3 site locations in Texas. This would require managing partnerships with outside parties and have 5 direct reports. Backgrounds in logistics, supply chain, warehouse management, and/or military branches are welcome and strongly desired!
 
Key Accountabilities:
10% Serve as a "cultural leader" to ensure Core Values continue to permeate all areas of the business
Ensure that Core Values are communicated to all employees and always put into practice by leaders at all levels.

Ensure all business policies, procedures and processes are aligned with our Core Values.

Supervise onboarding, retention, and employee development to attract and retain team members that share our Core Values and purge the organization of individuals who do not.
80% Lead Operations to facilitate growth and increase long-term cash flow generation
Lead Vehicle Storage Facility ("VSF") operations to maximize efficiency and cash flow

Manage current municipal and commercial customer relationships to maximize long-term revenue retention

Identify and Develop opportunities to acquire additional cash flow from new commercial and municipal customers

Develop and monitor operating and financial KPIs and utilize this data to drive operational efficiencies

Supervise company safety procedures and assist the COO in the development of safety processes that can be utilized throughout the organization

Assist the CEO and COO with the identification of acquisition and greenfield expansion opportunities in your market

Execute the operational integration of future acquisitions in your market

With the assistance of the COO, supervise and coordinate legal and regulatory compliance within your market

With the assistance of the CEO and COO coordinate and execute legislative and regulatory strategies
10% Manage administrative processes to support towing and parking enforcement operations
Coordinate with other P&L leaders within the business to develop operational best practices

Assist the CEO, COO and CFO with the development and implementation of strategic initiatives

In coordination with the CFO, supervise and coordinate Human Resource management policies and procedures

Supervise local finance, accounting and treasury processes and procedures in coordination with the CFO
Benefits: 
Salary negotiable; $165-$180K with additional bonus potential and equity

100% paid healthcare premiums 

401 (k) 
Apply with Google
Apply with Linkedin
Apply with Indeed