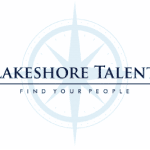 Lakeshore Talent
Lakeshore Talent is currently seeking a Warehouse Supervisor for one of their clients, a non-profit in the healthcare industry located in Centennial, CO.
This is an in-office, direct hire position and pays $52,000 – $67,000/year (depending on experience).
**Background check and drug screen required upon hire
Job Summary:
The Warehouse Supervisor will supervise all aspects of receiving, put-away, inventory control/cycle counting, Kanban, production supplies planning, and replenishment of production materials with the primary objectives of inventory accuracy and availability for all Supply Chain operations. They will ensure efficient and effective receiving practices, inventory storage, accurate flow of materials across the organization, accuracy of inventory records, management of offsite storage facilities, and compliance to established material storage requirements. They are also responsible for personnel management to include recruiting, training, coaching, developing, and retaining a high performing team.
Responsibilities:
Manage receiving, put away, warehousing, picking and core replenishment by initiating, coordinating, and ensuring compliance with operational and personnel policies and procedures.

Responsible for material re-ordering. Maintain Kanban min/max levels and lead-times to communicate daily order demand and coordinate the purchase through the purchasing department.

Maintain physical condition and optimal utilization of warehouse by planning and implementing new design layouts.

Manage the daily receiving activities to ensure accurate and optimal methods are used in receiving inventory and put away is accurate and timely; unload inbound shipments and use handheld scanners to receive materials.

Implement and manage a cycle count program to promote inventory accuracy of materials, oversee count activities, reconcile variances, conduct root cause analyses and corrective action development, reconcile with all inventory systems, coordinate with accounting.

Develop and implement strategies to maintain accurate inventory and achieve cost objectives.

Enforce proper inventory procedures and ensure timely transactions by personnel including scrap, obsolete and expired material/inventory.

Manage flow of inventory within the warehouse.

Responsible for providing leadership and directing the daily activities of personnel.

Supervise the overall cleanliness of the work area(s).

Assign and schedule staff based on daily/weekly priorities to ensure maximum productivity is reached.

Manage time and attendance, provide coaching and timely performance feedback to promote growth and development of staff.

Implement and report daily KPI's.

Develop, conduct and maintain training program for personnel including cross training.
Bachelor's degree strongly preferred; otherwise 5 years' related experience required

3 years supervising experience overseeing warehouse, Inventory Management or Operations personnel OR

5+ years' experience in inventory control, shipping or receiving within an FDA regulated or procedural based environment

Proficiency in Microsoft Office applications

Experience with Epicor preferred

1-2 years' project management and/or process improvement preferred

Preferred Training: CPIM, CSCP, CLTD
Apply with Google
Apply with Linkedin
Apply with Indeed